The table shows a series of static MO images of a YBCO thin film sample as a function of temperature and applied magnetic field.
Bright areas correspond to vortex flux lines penetrating the sample, dark areas correspond to a complete Messner state.
Field / mT
20
25
30
35
Temp / K
20
30
40
50
60
Time resolved (TR) MOI measurements differ from the static one showed above due to the possibility to study the time dependence of the signal. In our setup the laser pulses can be synchronized with the phase of the applied AC current flowing through the superconductors, allowing us to take (left picture) MO images for different values of the phase.

 

 TRMO measurements of YBCO thin film sample for different values of the phase Φ. The bottom panels show the averaged magnetic profile obtained from the corresponding calibrated images for different values of Φ. The AC current intensity is 5 Amps, the frequency is 400 Hz and the applied magnetic field is 30 mT. The temperature of the measurements is 20 K
.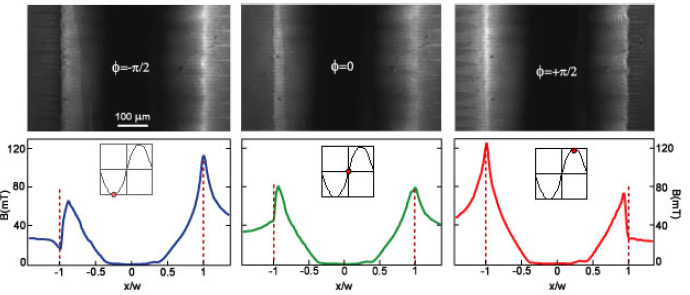 << Back :: Experimental Technique ::
=====================================================================================================================================
Funding: DoE