Manos Group at William & Mary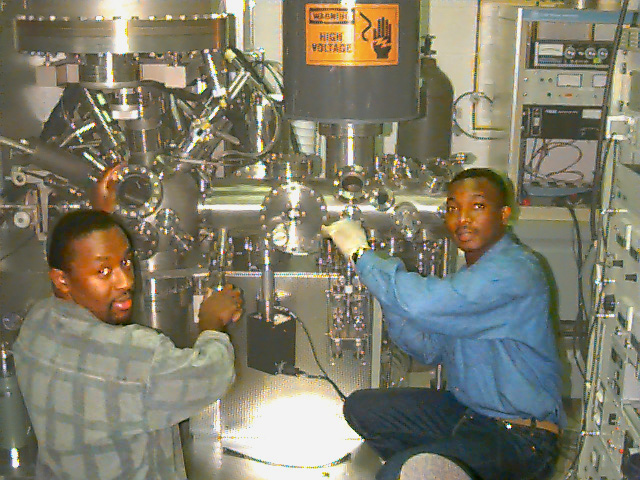 Prof. Manos' group performs research in the fundamental science which underlies the formation and characterization of surfaces and interfaces with particular specialized properties. These properties include resistance to corrosion, reduced friction, pre-determined electrical properties, such as the production of high-quality, high-value-added superconducting or semiconducting thin films, specialized reflectors or absorbers for light, heat, or x-rays, and so forth. Research includes plasma-surface interactions, surface cleaning and passivation, surface modification by particle and photon bombardment, and many other areas of fundamental and applied importance. In the long term, such technology is important to success in controlled nuclear fusion, high-speed aeronautics, high speed rail transport, communications, and many other large Federal initiatives.
Among the immediate commercial applications of this technology are developments required for the next generation of semiconductor manufacturing tools. Semiconductor processing in these tools must be performed by so-called "low damage" processes in order to give economically competitive yields. These processes must also be environmentally acceptable, producing no residual toxins that can enter the air or water supply. In the main, this means that "dry" processing provided by plasmas is far superior to polluting "wet" alternatives. Part of our work seeks to expand the inventory of these processes and to take the lead in the arena of "charge-free" low-damage dry processing.
Prof. Manos is also Director of a center for surface and materials study at the Applied Research Center building near DoE's Jefferson Lab. This facility is designed to complement our laboratories on the main campus in the McGlothlin-Street Hall as well as those in Small Hall. This center brings together resources from several Commonwealth universities and from Federal facilities to study photonic, plasma, and beam processing of materials, surface characterization methods, and other techniques to aid in manufacturing high value-added products by advanced processing.
The core of all of the projects in surface and interface science is the graduate and undergraduate researcher. We invite you to call or write to discuss specific opportunities. Please contact:
DENNIS M. MANOS, Ph.D.
CSX Professor of Applied Science
Professor of Physics
VP for Research
(757) 221-2573
dmanos@wm.edu
---